Inverter technology enhances the way that the heat pump operates so that the least amount of energy is required for operation, producing incredible efficiency and lower electricity bills.
EvoHeat have two inverter pool and spa heat pump series, designed with the latest stepless full DC inverter compressors, fans, and control systems – all working in perfect harmony to provide optimized heating with the lowest operating costs.
The Evo Fusion-i series & the Evo Force-i series are proving themselves incredibly popular for our customers. Each inverter series has a range of advanced features that allow you to get the most out of your unit such as wi-fi control, intelligent touch screen controllers, silent mode, auto-defrost and more.
Find out how an inverter heat pump differs from a regular heat pump and take your pool heating to the next level.
How does it work?
An inverter heat pump motor works like the accelerator of a car to maintain a set temperature rather than stopping and starting the motor like traditional on/off heat pumps.
It constantly measures the water temperature and adjusts the speed of the compressor and fan to run at the most efficient setting to match the heat loss of the pool. This allows for the desired pool temperature to be maintained much more efficiently.
With reduced energy consumption and operating times, the EvoHeat inverter series is the most energy efficient way to heat your pool year-round.
Can it pair with Solar PV?
Absolutely, our Evo heat pumps are ideal to work with solar PV. Combine your Evo pool heat pump with your solar PV and pool blanket for the ultimate energy efficient pool heating solution.
Are they environmentally friendly?
Yes, Evo inverter heat pumps have been designed with R32 ecofriendly refringent.  R32 refrigerant has a higher efficiency and reduces energy consumption by up to 10% compared to other refrigerants. Rest assured, it is safe to use and has a lower environmental impact.
Do they work in cold climates?
Evo heat pumps are designed with the latest technologies and advancements.  Unlike old generation heat pumps, Evo heat pumps are designed with an automatic four-way valve reverse defrost method and can operate efficiently in ambient air temperatures as low as -7°C.
How much noise do they make?
Evo inverter heat pumps are incredibly quiet. Our heat pumps have a decibel level starting from an incredible 39db when in silent mode. For comparison, the average household computer makes more noise than an EvoHeat inverter heat pump in silent mode.
The silent mode feature also allows owners to operate their inverter heat pump any time of the day so the unit it can operate throughout the night with lower electricity rates.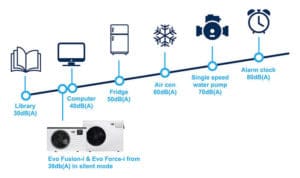 The EvoHeat Fusion-i & Force-i heat pumps not only use inverter technology but have even more advanced features for full control of your heat pump.
Wi-Fi Control
Control your pool heat pump from anywhere in the world from your mobile phone. Ready, warm and waiting for your arrival. Some features of the phone app are:
-             Increase/decrease the temperature set-point
-             Turn ON/OFF
-             Set multiple timers
-             Receive error alerts
-             Record last 30 days of pool heating data
-             Allows remote access by a technician
*Standard inclusion on the Force-i series, optional upgrade on the Fusion-i series.
Strong, Resistant ABS cabinet
Evo Fusion-i and Evo Force-i series has been designed with a strong, resistant ABS cabinet to protect the unit from corrosive chemicals and physical impacts, prolonging the life of your unit as much as possible!
Their sleek, slime line design makes them easy to install in any location.
For more information on our pool and spa inverter series click HERE