In today's world, where space is at a premium, many new homes are being built on smaller blocks. This often leads to limited space around the pool area, making it challenging to find the right heating solution. The Evo Edge-i inverter heat pump is the answer to this dilemma.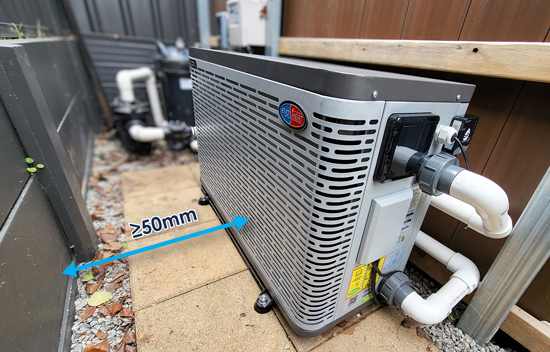 Unique Airflow Design for Tight Spaces
The Evo Edge-i boasts a revolutionary airflow design that's perfect for tight installations. With its side air discharge and rear air intake, this heat pump can be conveniently placed almost anywhere. Whether you're dealing with limited clearance or a compact backyard, the Evo Edge-i's space-saving design ensures it fits seamlessly into your pool setup. In cases of exceptionally tight spaces, wall mounting the unit becomes an extra choice to conserve precious floor area.
Efficiency at Its Best
Equipped with the latest stepless full DC inverter compressors, fans, and control systems, the Evo Edge-i ensures optimal year-round heating and cooling. Not only will you enjoy a comfortable swimming environment, but you'll also appreciate the cost savings. This heat pump operates efficiently, keeping your energy bills in check.
Upgrade Your Pool Today
Don't let limited space dictate your pool enjoyment. Upgrade your pool today with the Evo Edge-i inverter heat pump and embrace the convenience, comfort, and savings it offers. Whether your pool area is cozy or compact, the Evo Edge-i is the solution you've been waiting for. Say goodbye to installation limitations and hello to a year-round swimming experience that's both efficient and enjoyable.