EvoHeat recently received 3 awards at the SPASA QLD Awards of Excellence, two of which being gold awards for Innovation and Sustainability for our installation of the largest heat pump system in Australia at White Water World; the third being a highly commended for our Warwick Aquatic Centre project that involved heating, air handling, ventilation and heat recovery.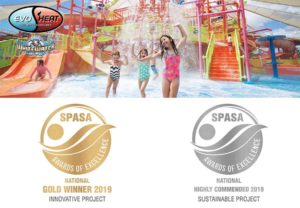 After this, EvoHeat went on to compete in the SPASA Australia National Awards of Excellence on 2 August 2019 in Adelaide and are extremely happy to announce that we took home the award for Innovative Project and were highly commended for Sustainable Project!
The SPASA Australia Awards of Excellence are the swimming pool and spa industry's most prestigious awards, attracting entries from every region in Australia and showcasing achievements in construction, design, manufacturing, supply, products, retail and service.
In March 2017, Evo commenced the installation of the largest heat pump system in Australia with a cutting-edge system upgrade at the popular tourist theme park, WhiteWater World. Evo's redesign heats over 30 slides, water-rides and pools to a toasty 26 degrees using 19 high performance EvoHeat CS200-GEN2 heat pumps. The 19 EvoHeat CS200-GEN2 heat pumps provide up to 3,610kW heating capacity, delivering unparalleled energy efficiencies. Evo were able to reduce WhiteWater World's annual pool heating costs by over 70% compared to their previous gas boiler system as well as reduce their carbon emissions by over 35%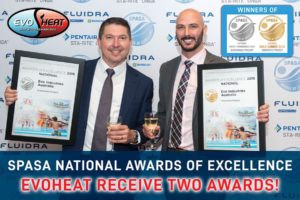 For more information on our White Water World install, click here: https://evoheat.com.au/whitewater-world-mission-complete/
Contact EvoHeat for your next pool heating project! For a free pool heating evaluation call us on 1300 859 933