EvoHeat are excited to announce that our cutting edge & high efficiency EVO Force pool heat pump will be featured on the latest series of…
Ready Set Reno which will be airing in October on Channel 9 for their third season, will follow the complete renovation of a Perth farmhouse. Within the house, the show will be including many energy efficient and sustainable household technologies – which makes an EvoHeat pool heat pump the perfect addition!
Renovations are well underway, with our Evo pool heat pump installed last week.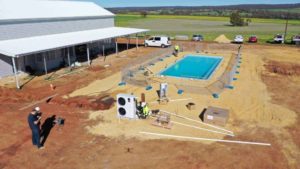 Heat pumps are fast becoming the mainstream choice for those who want a reliable pool heater that offers a consistent water temperature, lowest running costs while also being environmentally friendly. Heat pumps offer flexible heating capabilities allowing users to heat their pool all year round or extend their swim season.
With a class leading C.O.P, EVO pool heat pumps are up to 6 times more energy efficient compared to other heating technologies like electric element & gas heating. Unlike solar pool heating, an EVO heat pump is not reliant on the weather so it can guarantee pool heating results no matter the outside weather conditions.
Featured in the Ready Set Reno series will be our Evo Force 22 heat pump, upgraded with the smartphone controller app. The smart phone controller app allows the heat pump to be completely controlled by Wi-Fi from anywhere in the world! Available for iOS and Android, the smart phone controller app offers an easy and convenient way to heat the pool anytime, anywhere.
Be sure to tune into Channel 9 in October and  look out for EvoHeat on your T.V!